2=1 Offer: Nemea offers you a free week!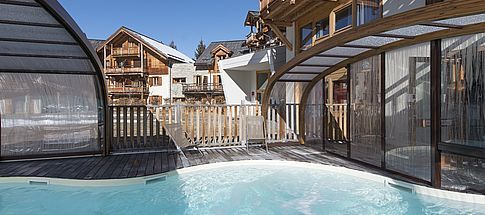 Our 2=1 stays in the mountains
For a 2-week stay, the least expensive week is free! No, you're not dreaming. Because your holidays and your comfort count for Nemea, a week's rental is offered free, on a two-week rental booked in one of our holiday complexes. Benefit from our offer to extend your holidays without spending more!

Read more

Customer reviews
(579)
3.65
579
Tucked away in the greenery at the heart of the Pyrenees National Park, Peyragudes overlooks the Louron and Larboust valleys. This Pyrenees resort is an ideal holiday spot if you're interested in trying out a variety of sporting activities: hiking, climbing, horse riding, mountain biking, rafting, white-water rafting, paragliding… Peyragudes also offers to each and every one of its visitors a glimpse into its precious wildlife, with the opportunity to spot protected species such as bears and golden eagles.

Customer reviews
(247)
3.65
247
Against a magnificent backdrop of mountains, Peyragudes is a small, lively resort in the Pyrenees, ideally situated for hiking or for exploring the heritage of the Louron Valley.

Customer reviews
(483)
3.7
483
At the heart of the Maurienne Valley, this resort, situated on a high-pasture plateau and bathed in sun, has breath-taking panoramas with a 360° view of the surrounding mountains. At the heart of the resort, the Chalets des Cimes offers panoramic views of the Aiguilles d'Arves mountain.

Customer reviews
(496)
3.8
496
A few kilometres from Megève, Flumet is a crossroads for tourists on the Route des Grandes Alpes. In the summer, at the heart of the town, a fully-equipped swimming and relaxation area blends in with the Arrondine recreation centre and its sporting facilities and children's games. Flumet also offers many other activities: walking, mountain biking, fishing,. . . and the summer season is broken up by several traditional festivals.

Customer reviews
(851)
3.7
851
Situated in the heart of the Alps, between Mont Blanc and Lake Léman, Chatel is a family village resort just a short distance from the French-Swiss border.

Diverse countryside and a wide range of activities: Mountain Biking, Via Ferrata, summer tobogganing, hiking, giant zip lining, fishing and whitewater sports make this resort an ideal location for a holiday with family or friends.
2=1 offer for our mountain properties


Comfort and low prices = sucecssful mountain holidays

Do you have two weeks ahead of you? A desire to go to the mountains this summer? Our 2=1 offer allows you to go on holiday stress-free without breaking the bank and better managing your budget. Thus, Nemea wants to help you find cheap holidays and benefit twice as much. Your budget can then be used for your activities and excursions - a way of planning your holiday expenses and extending your holidays.

Ideally located, Nemea properties give you access to all the services and facilities you need to have a wonderful holiday with your family or friends. With tasteful interior decor and well-laid out, Nemea apartments are equipped for your comfort and successful holidays: hob, microwave, fridge, washing machine, living room with dining area, sofa bed, bathroom, etc.

Go to the mountains this summer with Nemea

Various destinations are within reach with our 2=1 offer. The mountains await you this summer, with their walks, hikes, summer activities, entertainment and cultural events not to be missed, taking place near your Nemea holiday rental. Now is the time to spoil yourself! Book quickly and make the pleasure of your holiday with family or friends last longer. Find out more about the partner properties and availability of our 2=1 offer.