Breton holidays in Plougonvelin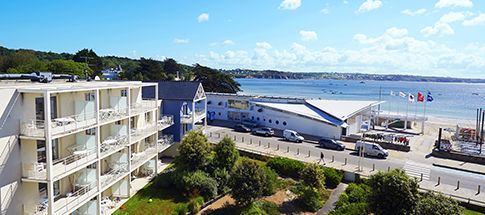 Discovering Brittany
From €185 pour un séjour d'une semaine at the residence Bertheaume from 02/10 to 09/10.
Would you like to discover Brittany and, more specifically, Finistère on your next holiday? Do you really want to book a seaside holiday apartment? Nemea can offer a holiday residence in Plougonvelin. In the heart of the Trez Hir cove, this charming seaside town is an ideal destination.

Read more
Partez ou soyez remboursés!
Customer reviews
(1362)
3,9
1362
At the very edge of the Iroise Sea, the town of Plougonvelin holds firmly on to its Breton identity with its fine sandy beaches, jagged coastline, and islands that measure just a few nautical miles in width. Tucked away in the cove of Trez Hir, you find yourself immersed in an ocean of delights.
Stays from
€185
Rental from 02/10/21 09/10/21
T2/4pers 4 guests
Flexible dates ?
Your destination is set
or
Flexible about your destination ?
Your dates are set
The charm of Brittany, with Plougonvelin

A strong Breton identity
You will discover all the subtleties of the Breton identity during a vacation rental in Finistère by the sea. In Plougonvelin, you will enjoy visiting Pointe Saint Mathieu and Fort Bertheaume. And because the coast is as majestic in high as in low season, Nemea simply must recommend a winter holiday in Brittany.
An ideal holiday residence for a family trip
The Nemea holiday residence with swimming pool offers a breathtaking view of the sea. With its fully-equipped accommodation, a sauna, gym and indoor swimming pool, holiday rental in Plougonvelin promises a fun time with family or friends.