A holiday at the campsite with a slide that will have your head spinning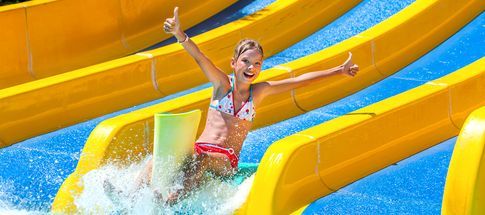 A campsite with a slide, for an even greater thrill
For your next holiday, do you want to combine camping and fun in the water? Choose a resort with a swimming pool with slide. How about a campsite with a water park? Be warned, you may become addicted.
Read more

A quelques kilomètres de Fréjus et des plages de la Côte d'Azur, le camping Montourey est installé au milieu de grands peupliers noirs d'Italie. Vous pourrez pleinement profiter du complexe aquatique équipé de 3 bassins adaptés pour chaque âge, avec pistes de glisse et toboggan, d'un bar et d'un restaurant.


Séjourner à la Carabasse dans l'Hérault, vous permettra de passer un moment inoubliable sous le soleil du Sud. Découvrez sa superbe piscine lagon, ses palmiers et profitez des différentes infrastructures et activités proposées (karaoké, quiz, bingo, cabaret chantant...) au camping.

Situé au bord du Rhône, le camping atypique des Rives de Condrieu vous proposera différentes animations pour petits et grands (en haute saison). Découvrez le patrimoine culturel de la Vallée du Rhône. Avec 2 bassins de baignade dont un chauffé, une pataugeoire pour les tout petits et un toboggan en colimaçon, le complexe aquatique fait le bonheur de toute la famille.


Dans l'Hérault, le village 4* des Sables du Midi vous permet de profiter d'un séjour avec piscines, restaurants et clubs enfants. Vous pourrez également découvrir Valras Plage, jolie station balnéaire à seulement 15min à pied.


Situé au près de la vallée de la Loire, le camping du Domaine de Dugny vous permettra de visiter les magnifiques Châteaux de la Loire, le premier étant à seulement 8km ! Profitez des différentes activités dans la région et savourez la gastronomie locale tout en découvrant les richesses culturelles en famille.

Située aux abords de la forêt de Cerisy, le camping du Domaine de Litteau vous permettra de passer des vacances au calme. Entre pêche, tyrolienne et piscine, les nombreuses activités proposées sur le camping vous permettront de vous ressourcer pendant votre séjour.

Située sur la Costa Dorada, Comarruga se trouve dans la province de Tarragone, en Catalogne. Comarrauga est à environ 40 minutes de Barcelone et 20 minutes de l'aéroport de Reus. La station est populaire pour sa magnifique étendue de sable doré, la mer claire et ses excellents équipements. Le camping est face à la mer, à 50 mètres environ de la plage, et 3 kilomètres du centre-ville et des commerces.

Campsites with a swimming pool and slide


The joy of a campsite with a swimming pool and slide
The children are the first to say it, in order to have a great holiday, a swimming pool is essential. For refreshment in the summer or for a chance to relax during the shorter holidays, there's nothing like a campsite with a water play area with a slide. For a cheerful and sporty atmosphere, time together as a family and plenty of laughs - choose a campsite equipped with a water slide. From the simple slide to the more hair-raising attractions, it's just a stone's throw away. In any case, you are sure to make your children happy by treating them to an unforgettable time spent slipping and sliding.
Campsite with water park
Going far beyond a swimming pool equipped with a water slide, there are campsites offering fully fledged water parks. Its still all about having fun sliding into the water, but with an added dimension. Here your holiday at a campsite with a water slide will be transformed into an incredibly fun experience that you will never forget.
Finally, some campsites with a swimming pool offer facilities that take things to an entirely new level. Outdoor hotels offer an increasingly varied range of facilities, and water sports areas are the perfect illustration of this trend. So, to share moments of family fun and unforgettable memories, treat yourself to a stay at a campsite equipped with giant water slides.